Guitar Repair in Neon
Guitar Quackery follows the tradition of neon
Guitar Quackery is conveniently located in Midtown Manhattan, blah, blah, blah...
But that's not the only thing to get excited about. Many guitar players are typically really into vintage specks, and that sort of thing. So, in the spirit of vintage spec, we keep our shop on character by having a vintage neon sign hanging right above our shop's entrance. Just look at how gorgeous this GUITAR REPAIR neon sign looks.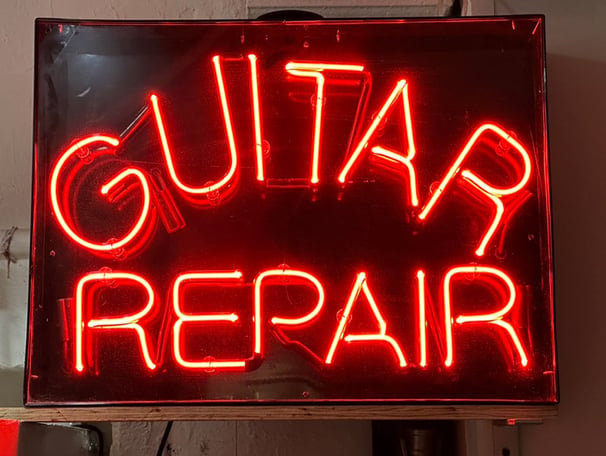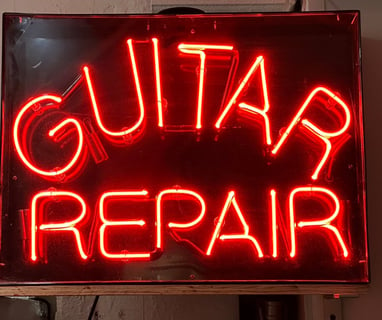 I'm not really sure how old this sign is, or if it's actually at least 25 years old to qualify as vintage, but it is a sign that used to be used by another repair shop in the City. That shop changed their signage and had some plans to dispose of this old sign. I offered to purchase this sign from them and to my delight, and their generosity, they let me have it. That's a fine example of two businesses supporting each other's efforts to do business, although we are (technically speaking) competitors. Nevertheless, I am always open to working together and trying to benefit from each other's presence.
This sign had to have two repairs, since I've acquired it.
One repair was on one of the tubes and the other repair was on the electrical system. The transformer overheated and failed. That's because it was installed inside the enclosure, without any ventilation.
Since the transformer is UL listed, it is illegal to repair it in a DIY style. Only the manufacturer is allowed to repair any UL listed electrical equipment. So, I didn't attempt to repair it and I simply bought a new one. But this time I mounted it at the back, so it doesn't overheat.